MERRY CHRISTMAS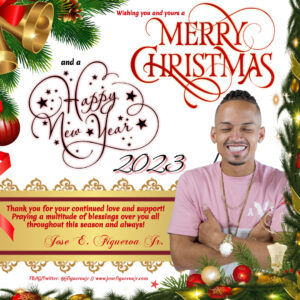 We made it to the end of the year, you guys! As we go forward with our holiday festivities, though, let us not lose sight of the REAL reason for the season! While you are spending time with your loved ones, hold tight to the true essence of what Christmas is all about! While Jesus may not have actually been birthed during this specific time, He remains the sole reason for why we are able to celebrate! No matter what you have planned, make sure you set
aside some time to spend time with Him as well!
And as this year comes to a close, remember that the start of a new year can be a very moving experience. It's a time when we reflect with gratitude on the past and set our hopes and intentions for the days ahead. What's more, a new year usually gives us a new opportunity to reinvigorate our enthusiasm for chasing goals and dreams.
Just like every year, 2022 had its ups and downs. However, I truly can't thank you all enough for sticking with me! Whether you supported me before this year or you were introduced to me during this year, thank you for continuing to believe in me!
With the new year approaching, remember Jeremiah 29:11: "'For I know the plans I have for you,' declares the Lord, 'plans to prosper you and not to harm you, plans to give you hope and a future.'" May God richly bless you and your loved ones as you head into 2023. I can't wait to see what adventures await us!
HAPPY NEW YEAR